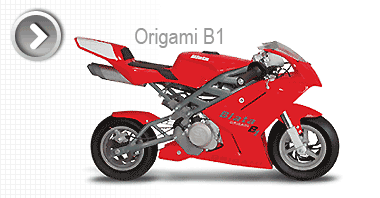 Pavel Blata started his involvement with pocketbikes when Vittorino Orazi's company enlisted the help of the Czechoslovakian-born Blata in the early 1990s to help first with the production of parts, and then complete bikes for the Vittorazi minimoto company. After a successful run at constructing bikes and parts for Vittorazi, Blata soon decided to move on from simply manufacturing, to selling his own line of Bikes. Blata then changed and refined his bike's design, and began producing his pocketbikes under his own brand name in his native Czechoslovakia. Blata production now included the mini 2.5, and Blatino scooter models.
Pavel Blata then met Rastislav Brodsky at the 1992 MotoVelo Fair in Prague. Ras was at the time working for the Czech industrial agro-computer company, PVD, which had refocused its business model after the revolution, and had been building their own small motorized scooter called the "Zoom" since 1990. The scooter was designed by PVD with styling design help from a professor, and dean of design at the University of Zlin, Czechoslovakia, a division of the Technical University of Prague, and another well respected Czech technical designer, and was being manufactured for PVD by the Czech aircraft company, Moravan.
Ras Brodsky soon left PVD and joined forces with Pavel Blata in 1992, and by 1993 Blata had already designed and were racing the new Polini powered Elite 11 model, which they would add to the lineup in 1994.
In 1996 Blata organized the Blata Cup Racing Series in the Czech republic, and starting with the 1998 series, the winners of the Blata cup have gone on to compete in the European Championships. In 1999, Blata cup winner Jan Prudik finished 2nd in the European Championships in his class riding a new Blata Elite 12. He then followed it in 2000 with a Blata cup win and a European 1st place win, where rounding out the podium was Blata rider Ondrej Jezek, with a European 3rd place finish. Blata's racing team even includes female riders, and in the 2001 European Championships, 10-year-old Andrea Touskova rode to a 3rd place win in the Junior class. Blata 2.5 bikes have proven extremely popular among younger Junior Class racers because of their low cost, and easy, controllable acceleration.